Kimchi is originally from Korea.
It is spicy, fermented vegetable.
Today it is loved all over the world as tasty, healthy food.
Our Kimchi is… not quite like the authentic Korean Kimchi although it is also tasty and healthy.
In the last few years, we have witnessed many people caught with a surprise when they sampled our Kimchi.
"Wow, it's different!"
Obviously it's somewhat different from the food commonly known as Kimchi in this area.
Maybe it is because Yuki, the inventor of Digby Style Kimchi, is Japanese, not Korean.
Maybe because she wanted to use the most available produces in this area, Digby and South West Nova, instead of looking for the exotic ingredients far and wide.
And maybe because she is such an easy going, flexible cook.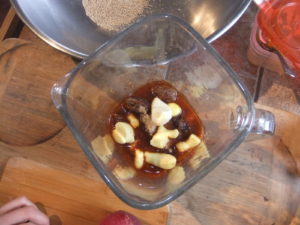 Anyhow, this unique all-vegetable, gluten-free and sugar-free Kimchi was born after many trials over 2 years.
We now proudly call it Digby Style Kimchi.
But why Digby Style Kimchi is different from others?
Here are the secrets of our Digby Style Kimchi.
Secret 1: Mushroom Powder and Dulse for Umami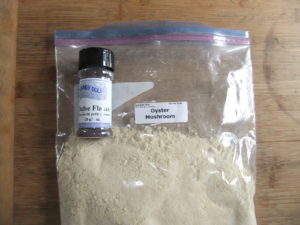 Traditional Korean recipe often requires fermented seafood (fish, shrimp, etc).
We have no such a thing around here.
So we use our great local produce for the seafood flavour – Fundy dulse!
Now, in Japanese cooking, they often use dried kelp (Kombu) and dried Shiitake mushrooms for Umami.
To add more Umami conveniently, we were looking for the powdery product available locally for a long time.
And we finally found BullyGoth Farm's oyster mushroom powder.
Compared with Shiitake mushroom, the Umami is subtle.
In other words, it's so mild that it goes well with anything.
You can easily add for soup, stir fry, stew and of course, Kimchi. 
Secret 2: No Sugar, Yes Dates
The basic rule of 'good taste' is the balance of five basic tastes – Umami, sourness, bitterness, saltiness and sweetness.
We covered Umami with dulse and mushroom powder.
The sourness comes from the natural fermentation.
Bitterness comes from some vegetables.
Saltiness comes from sea salt.
How about sweetness?
The recipes Yuki had checked all used either sugar or honey.
She was faithfully using those in the beginning, but one day she thought about dates, the nutrient-packed tasty dried fruits.
Why can't we use them instead of sugar?
The result – great success.
Secret 3: Seasonal Vegetables with Colors
Many people think Kimchi is made with Chinese cabbage, but not necessary!
We use whatever available at that time, typically combining a few or more varieties.
Lettuce (various)
Swiss chard
Boc choi
Tato soi
Yukina
Mizuna
Green/yellow beans
Cabbage
Turnip
Rutabaga
Carrots
Daikon radish
Green onion
Cilantro
Shiso
Japanese knotweed shoots
Goutweed
So far these turned out fine Kimchi as the main or sub vegetable.
The mix of colors, flavours and textures make the Kimchi more enjoyable.
Secret 4: Love!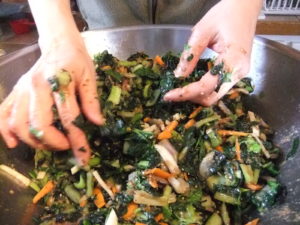 When we call this Kimchi "Digby Style", we are proud of our local produces and their products.
We think about their hard work and appreciate them.
And we remember and appreciate the beauty of this place.
We mix the Kimchi by hand.
Your hand is the best tool to make it taste good (don't ask me why, it just seem like working in that way).
Enjoying the Kimchi making process is one of the secrets to make it taste so good.
Hands-On Experience of Kimchi Making
In April 29th (Sun), we are offering a hands-on Kimchi making workshop at BullyGoth Farm in Carleton, NS.
Please come join us if you'd like to learn how to make Digby Style Kimchi!
Fermented Foods Workshop ~ Kimchi Making, Sampling and Talk
When: April 29th, 2018 (Sun)  1:00pm ~ 4:00pm
Where: BullyGtoth Farm   474 Perry Rd. Carleton, NS
Cost: $60 (HST included)
Includes: a jar of fresh Kimchi to take home, "Fermented Foods for Beginners" recipe handbook
R.S.V.P. by April 20 (Fri) to secure you seat *It's full – sorry if you missed!
More info / reservation: Ordinary Family Food & Life Ltd.