Try this simple method to make nutritious and delicious soup!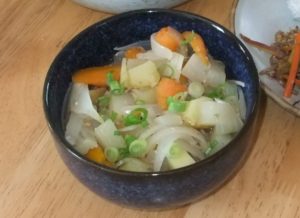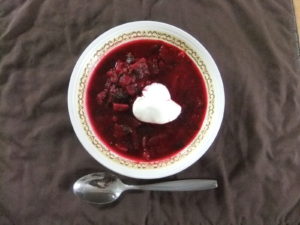 4~6 servings
Ingredients :
½ tsp   Fundy Dulse  Dulse Flake
1~2 tsp   Bully Goth Farm  Oyster Mushroom Powder
1~2 cups   Vegetables, cut into a bite size
~1 cup   Tofu, meat, portly or seafood (optional), cut into a bite size
A pinch of sea salt
2~3 cups   Water
Chopped green onion or parsley for garnish (optional)
To Season:
2~3 tbsp + extra   Miso for Miso soup
Sea salt and pepper for other kind of soup
Specific Ingredients for Red Soup:
– Vegetables – include beets (red variety), potatoes and onions
– Use beef, portly or lamb instead of Tofu or seafood
– A bay leaf in the layer of 'leaves'
– Sour cream
*1 cup = 250ml
Layer the ingredients in order of Yin-Yang method (below).
Sprinkle a pinch of sea salt on the top. 
Pour water, send your love (pray for the best taste!), cover and cook until the vegetables are tender.
When all ingredients are tender, turn the heat off.
For Miso soup – Add 2~3 tbsp of Miso and stir well. Taste and add more as needed. Optional fresh chopped green onions to garnish.
For Red soup – Season with salt and pepper. Serve with sour cream.
Tips:
Try various vegetables, especially when you make a large amount at once.
The best is to use seasonal vegetables available at that time.
Beet greens and kale are great additions for a large batch of soup as well as turnip, zucchini and winter squash.
For dry beans and/or grain, pre-soaking is recommended. If you add dry, make sure you pour enough water. You also need to count much longer time to cook with the dry beans and grains. A crockpot/slow cooker is a great tool for it.