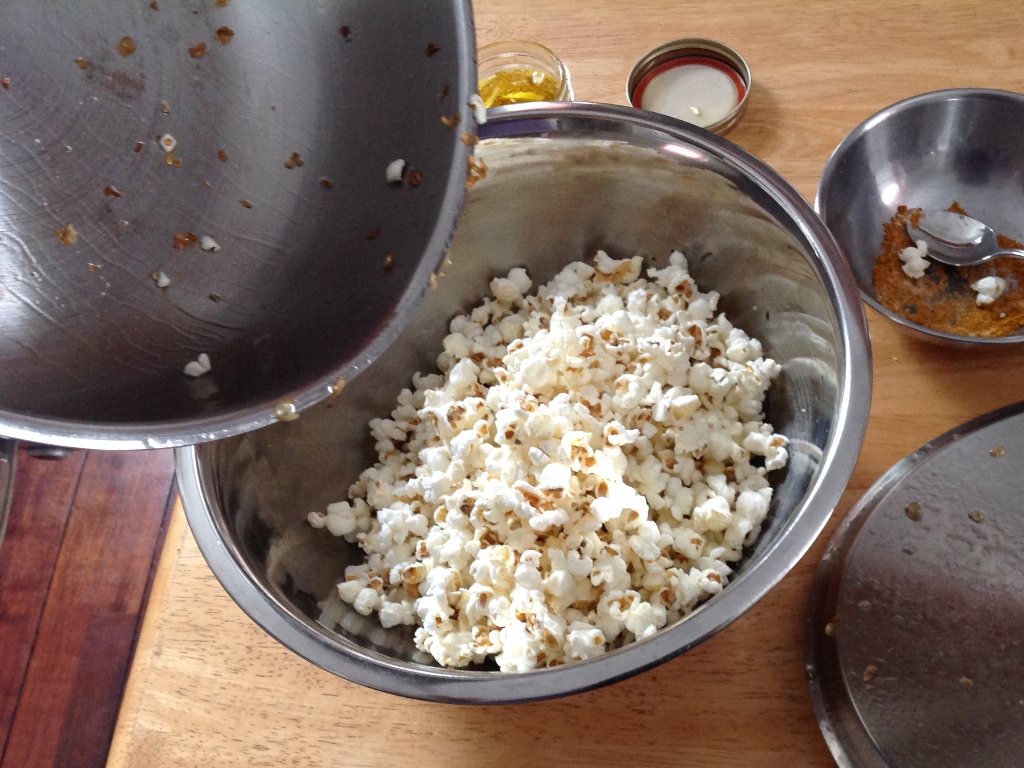 Although I knew the microwave popcorn was not good for you, I couldn't blame kids enjoying it more than my homemade because every time I made it, I couldn't pop well. Many came undone while some were already burnt.
I used to blame the corn kernels, but actually It was ME…
I searched how to make popcorn and found the 'proper method'. The trick was 'the 30 seconds' in the process.
I was somewhat skeptical but I followed the instruction faithfully. Same corn, same pan. Just a different heating method.
And lo and behold, it magically turned really, really PERFECT!
Now I became a popcorn making lover. I enjoy making it more than eating it.
I learned how much a successful experience motivates a person. An important lesson for parenting, coaching someone and self management.
So, here is how to make perfect popcorn (no burning).
Ingredients (Yield – a big bowl full, approximately 8~10 cups):
1/3 cups good quality popping corn
3 tbsp oil (olive, sunflower, coconut, etc)
1~3 tbsp butter or olive oil (optional)
salt and/or seasoning you like (optional)
Step 1.
Heat oil in a large, heavy pan or pot (that should have a lid).
Put 3 kernels and wait.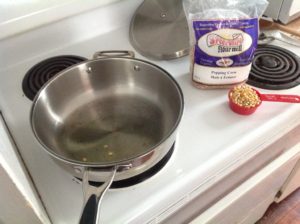 Step 2.
When the kernels pop, take them out.
Pour the rest of the kernels.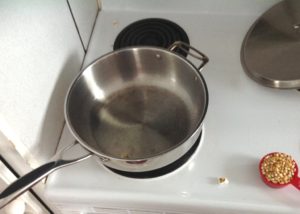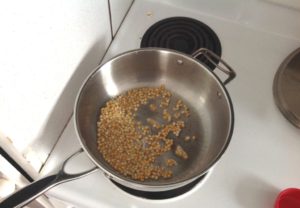 Step 3.
Cover and remove from heat.
Wait for 30 seconds.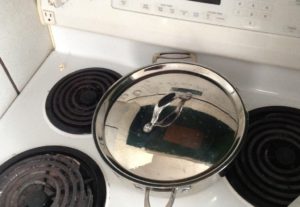 Step 4.
Put it back on the heat (medium high).
Let it pop. When you cover, leave a small gap so the steam can escape. Gently shake back and forth a few times.
Once the popping slows down (the interval between pops are 3 seconds +/-) remove from heat.
Step 5.
Transfer immediately into a large mixing bowl.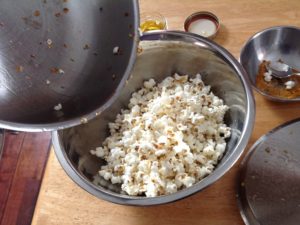 Step 6.
If you use butter/coconut oil – put butter or coconut oil in the hot pan and let it melt. Drizzle over the popcorn and gently toss.
If you use oil – drizzle over the popcorn and gently toss to cover.
Sprinkle salt and/or desired seasoning.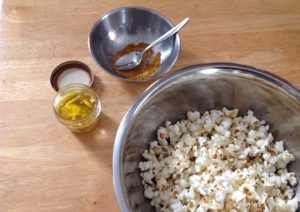 I put sliced garlic and dry minced onion in a jar of olive oil and let it sit over night.
After I popped corns, I drizzled it over and coated the popcorn. Then added curry powder with salt and pepper.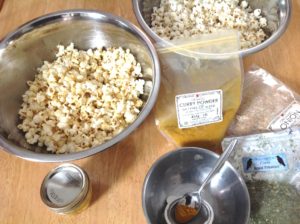 Another flavor with herb mix (BullyGoth Roasted Potato), dried minced onion, salt and pepper.
You can come sample the perfect popcorn at Sampling Thursday in January 17, 2019 at Raw 'N Green Wellness Centre (68 Water Street, Digby). January's theme is Healthy Comfort Food.
Drop in and try the homemade perfect popcorn! You can see the original instruction here:
Perfect Popcorn