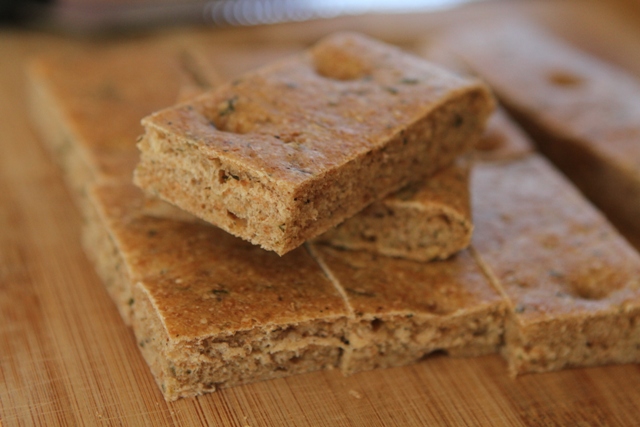 Serve this flavourful flat bread with humus or cashew dip (make this recipe with no to less herbs for this herb bread).
Makes 18″X13″ (46cmx33cm) focaccia (a half pan cookie sheet size)
Ingredients:
1/3 cups       warm water (105°F to 115°F / 40°C~45°C)
1 pkg (2-1/4 tsp)     instant dry yeast
4 tbsp       extra virgin olive oil
2 cups       whole spelt flour
1-1/4 cup       whole white or all purpose flour
1~1-1/2 tsp       sea salt
1~2 tbsp       BullyGoth Farm 'Roast Potatoes' herb blend
1 tbsp       dried mince onion
1/2 tsp       black pepper
*1 cup = 250ml
In a large bowl combine the warm water, yeast, olive oil, salt and spelt flour. Mix well.
Add Spelt flour and knead until the dough becomes smooth and elastic (5~10 minute). Cover with damp tea towel or plastic wrap and let it rise in a warm place until double in size (1 to 1-1/2hr).
Cut a sheet of parchment paper into 20″x 14″ (50cm x 35.5cm). Gently turn the dough on the parchment paper. Roll into a rectangular shape leaving an inch (2.5cm) of space around. Sprinkle extra flour up to 1/4 cup if it's too sticky to roll.
With your index and middle finger, poke the dough all over, about 2″ (5cm) apart.
Slide it on a cookie sheet (18″x13″). Cover with a damp cloth and let it rise in a warm place for 20~30 minutes.
In the meantime preheat oven to 425°F. Bake 15~18 minutes.
Cool on a wire rack for 15 minutes before cut.