After the slow start of spring, things are now growing in my garden in Digby.
Some are growing almost too fast.
We are eating fresh salad every day but lettuces have already started bolting.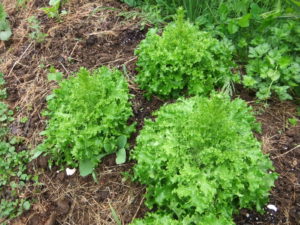 So I harvested armful of lettuce and made Kimchi.
Yes, our famous Digby Style Kimchi.
This time I added other greens thriving in the garden. Chives.
I modified the basic Digby Style Kimch recipe – omitted the Daikon radish and increased the amount of chive to about 2 cups.
I shredded the carrots to save time.
It turned out as nice, crunchy summer Kimchi.
You can add many weeds in Kimchi as a matter of fact.
In our spring workshop, we added a few from my garden.
Goutsweed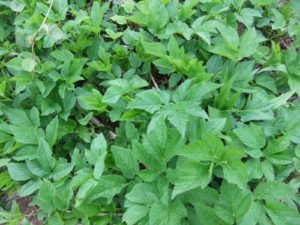 I'm positive that more than half of people have this vigorous weeds in the yard.
If you don't spray your yard and/or garden, pick the tender leaves, chop it and add it into Kimchi, salad and green smoothie.
As far as I researched, both the green and variegated varieties are edible (and I have eaten both!).
It has a distinct flavour somewhat similar to celery,  so I recommend to start from a small amount.
More info about goutsweed
Ox-Eye Daisy
Another interesting weeds to add is ox-eye daisy.
They are pretty with white flowers but actually one of a noxious weeds all over North America.
Of course I have thousands in my yard in Digby.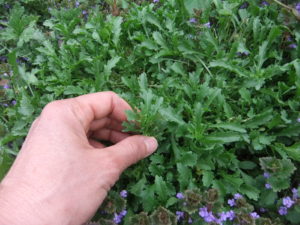 This has a natural sweet taste.
I like a small amount of this mixing with others.
Again, start from a small amount and increase as you like.
Acadian Spinach (Lamb's Quarters)
I shouldn't call this as a weed.
This is actually a traditional green Acadian people have eaten for years.
This very mild green leaves can be easily mixed into salad, soup, spaghetti sauce, quiche, stir fry and so on.
Oh, of course in Kimchi!
Taste if you find one on a beach.
They are salt-tolerant so grow well on the beach.
The ones growing near the sea water contains high salt and you really taste it.
It's my favorite healthy nibbling on a beach combing…
If you have lots of summer greens you can't eat at once, make Kimchi.
If you don't have enough greens, explore with weeds.
You may want to check:  our original Digby Style Kimchi recipe
Interesting to learn more?
We offer food making and cooking workshops.
Sign up for our newsletter to get latest info.