Non Sugar Sushi Rice
Tweak of Japanese Standard
Sushi has become an international food today. For health conscious Sushi lovers, here are 2 versions of non sugar Sushi rice.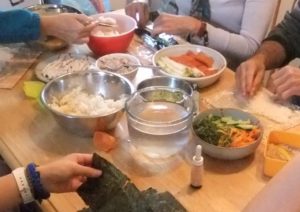 [ Sushi Vinegar Mixing Method ]
Ingredients (4 ~ 6 servings) :
Rice for Sushi
4 rice cooker cups/720ml     Japanese short grain or Calrose rice
* 1 rice cooker cup = 180ml
** Alternatively 3 regular cups/750ml  +  3 cups of water
Sushi Vinegar
1/2 cup/125ml     non pasteurized apple cider
1 tbsp      balsamic style apple cider vinegar (or balsamic vinegar)
1-1/2 tsp      sea salt
1. Wash rice (no soap!), changing water a few times, until the water gets clean. Drain.
The first time drain the water quickly.
The video is saying to leave it for 30 minutes. This process is not necessary for some rice cookers (newer model). Read the instruction.
If your rice cooker has the water guideline for Sushi rice, set the water as it says and cook.
If your cooker doesn't have it, reduce 1/3 cup water from regular amount.
If you don't know how to cook rice in a pot, watch this video.
Note 1: He uses the 1:1 rice-water ratio to cook the regular rice. My method is to use 1:1.1 ratio (10% more water) for regular and 1:1 for Sushi. Adjust the water to make your favoured firmness.
Note 2: For Sushi, I recommend to soak rice in water for 30 minutes, drain for 30 minutes and then cook. This process makes rice cooked thoroughly yet firm.
2. Mix Sushi vinegar ingredients well until sugar and salt dissolve. When rice is done (if you cook in a pot, do not skip the 10 minutes waiting time before open the lid), transfer the rice in a large mixing bowl. Pour 2/3 of vinegar mixture over. Count 5 and then mix well without mushing the rice (like mixing the cake batter). Taste and add vinegar as needed (be aware that the sweet and sour taste will be less perceptive when it gets cool).
3. When it is well mixed, spread rice in a large tray and fan to cool it off quickly. Once it cools down to 35~40 ºC, it is ready to use. Mound and cover with damp cloth if you don't use immediately.
[ All-in-One Method ]
Cook rice with apple juice!
Enjoy this surprisingly easy and delicious Sushi rice.
Ingredients (4 ~ 6 servings) :
4 rice cooker cups/720ml     Japanese short grain or Calrose rice
2 & 1/2 cups/625ml      non pasteurized apple cider
1 & 1/2~4/3tsp      sea salt
1. wash and drain rice in the same way as vinegar mixing method.
2. put drained rice and apple cider in the rice cooker. Add water to the regular rice cooking guideline.
If you cook in a pot, add 1/2 cup of water.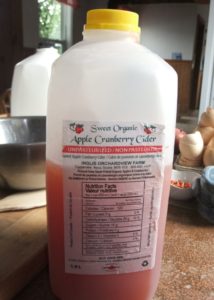 This time I used local organic producer Inglis Orchardview Farm's 'Apple Cranberry Cider'.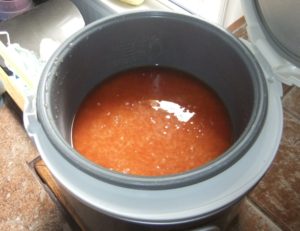 Cook rice.
3. when it's done, sprinkle 1 & 1/2 tsp of salt. Mix, taste and add more salt if necessary.
Transfer in a large mixing bowl or tray and cool it, fanning as needed.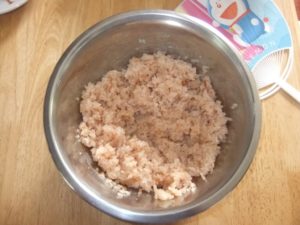 Additional Note:
Avoid new crop to prevent soggy result.
Wash your hands before you handle food.