Kimuchi – Beans
There were plenty of fresh beans so we made Kimuchi with them.
It turned out really nice and crunchy!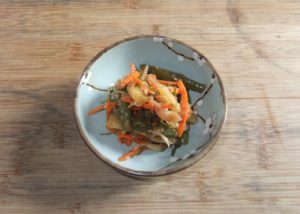 Makes about 2 litters of Kimuchi
Ingredients:
Vegetable pre-salting
1.5lb/700g      Fresh beans (green, yellow, etc)
15g/4 tsp      Sea Salt
Brine/Marinade sauce
500ml (2 cups)       Water
4~5 pieces      Dates, chopped (1/4 cup)
1 tbsp      Dulse Flake (Fundy Dulse)  or  finely cut dulse
1 tbsp      Oyster mushroom powder (BullyGoth Farm)
1 tbsp (or more if you want spicier)      Korean chili powder or cayenne pepper
3/4 cups      Daikon radish, julienned
1/2 cups      Carrots, julienned
1 tsp      Sea salt
1/2      Small apple
1 piece (size of thumb)      Ginger
2~3 large cloves      Garlic
2 tbsp      Miso or Soy sauce
1/2 cup      Chive, chopped 1″ long
1 tbsp      Sesame seeds, roasted
Sea salt to season
Jars for fermentation:
2      1L wide mouth mason jars
2      125ml mason jars
2      wide mouth plastic lids for mason jars (NO metal lids)
Wash and sterilize with hot water.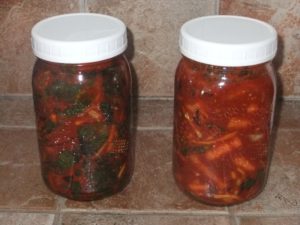 Step 1. Pre-salt beans
1. Wash beans well. Cut into bite size.
2. Sprinkle sea salt over beans. Toss and cover.
3. Turn upside down after a few hours to salt thoroughly. Leave overnight.
4. Next day rinse the beans well. Drain. Set aside.
Step 2. Make brine/marinade sauce
1. Boil water in a sauce pan. Add dates, dulse flake and oyster mushroom powder.
2. When it boils again, turn the heat off. Add chili powder. Let it cool off completely.
3. Toss Daikon and carrots with a tea spoon of sea salt. Set aside.
4. Core and cut the apple into bite-size pieces.
5. Peel ginger and garlic. Cut into bite-size pieces if too large.
6. Place apple, ginger, garlic and Miso in a blender or food processor. Add cooled chili mixture. Blend until it becomes smooth.
7. Transfer 6 into a large mixing bowl.
Squeeze the excess liquid out of 3 (Daikon & carrots). Add the drained vegetables to the bowl. Add the chives and sesame seeds.
*If you can't find dulse flake and/or mushroom powder, you add a small amount of fish sauce for flavour.
Step 3. Pack and ferment
1. Mix beans and brine/sauce well.
2. Taste beans with sauce. Add salt if necessary.
3. Pack into 1L mason jars.
4. Place a 125ml jar over the Kimuchi within each 1L jar. Cover with the plastic lid. Adjust the volume of Kimuchi so that the small jar sits on the top working like a weight.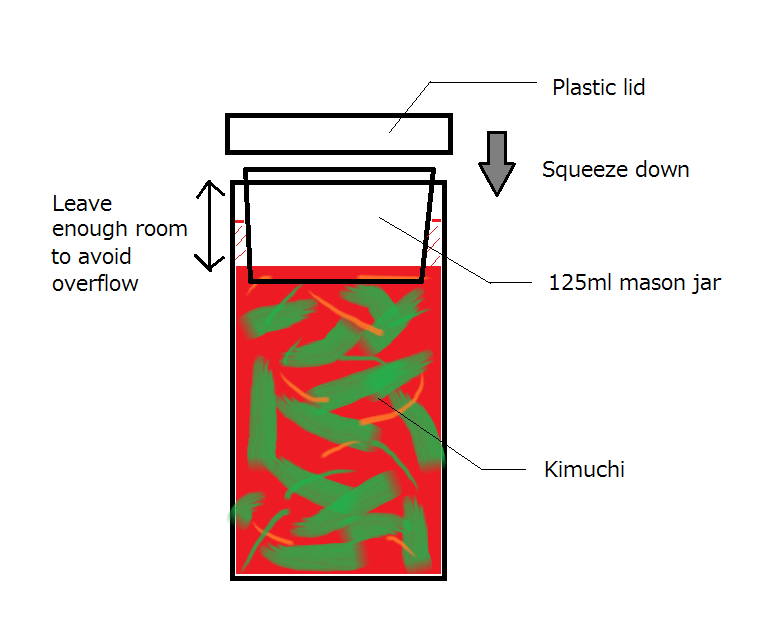 5. Place the jars in another container or on a dish to catch the overflow during the fermentation.
Leave it in a room temperature for a day or 2 and then refrigerate.
Enjoy when it reaches the desired flavour (usually it's ready to eat after a few days refrigeration).