About Us
History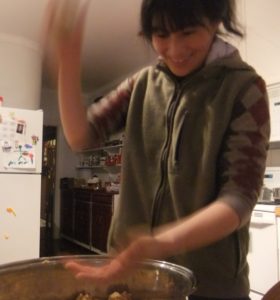 The founder, coordinator and workshop instructor Yuki Inoue was born and raised in Japan. She grew up with many fermented foods such as Miso, soy sauce and various marinaded vegetables. Rediscovering the value of traditional Japanese food, she started making her own food such as marinaded vegetables and Natto (a type of fermented soy bean) after she came to Canada.
When she moved from Calgary to a town of Digby, Nova Scotia, she found some of the conveniences of a city lacking here. The situation forced her to find creative solutions to meet hers and her family's wants and needs. Through this experience she realized an ordinary person has the power to make things happen. She established Ordinary Family Food & Life Ltd. in 2013 to share the opportunity with people to achieve quality food and life.
The blog tells you more about this company.
Our Philosophy
Happy-or-not

is the criteria. Not good-or-bad.
You have the

right, power and responsibility

to choose your way of life.
Treat everyone as if they were your own

family

with love, honesty, fairness and patience.

Be yourself

and let others be themselves.

Think about

why

and for

what

 

before how

.

Learn and

grow together

.
Office
177 Lighthouse Road,  Digby
Nova Scotia,  Canada  B0V 1A0
Email: info@ordinaryfamilyfoodlife.ca
Phone: (902)247-9017
Office hour: Mon-Fri  9:00am – 4:00pm